Even though "Barstow Green" bus was a bust, we had already prepared to bring a bus home. The first order of business was purchasing an "RV-specific" roadside assistance plan. We have read on many blogs that towing a bus can be extremely expensive without one. This was taken care of with a simple phone call to "Good Sam". The second order of business was finding a place to store the bus since we live in a neighborhood that has an HOA and does not allow parking of RVs on our property.
On a Saturday morning we decided to go shopping for RV storage. There are plenty of places around our area because we have a large population of "snowbirds" or "winter visitors". So we decided to take a morning drive and visit a few of them.
This was a much stranger experience than I expected. For starters, these places are usually in some kind of industrial area, and when you enter the people behind the desk tend to look at you with suspicion. It's really an awkward feeling. I would normally give a small greeting and then ask for a price sheet. We visited 4 different places that morning, none of them had space and all of them refused to give us a price sheet! Although, I was allowed to "just look" at the prices. Usually about $80/month for non-covered $120/month for covered if you are curious. (Hopefully I am not giving away some kind of trade secret here.) So again we headed home without any plan and we were scheduled to buy the "Barstow Green" bus the very next weekend!
During this same time, we were selling things on Craigslist and OfferUp. We were trying our best to continue our "purge" by having a steady stream of our stuff always selling online. The cool thing about this is that you get to meet all kinds of interesting people - people buying stuff for their first baby, people buying kitchen appliances who love to cook, people who have a small lawn and don't mind using a push-mower. To our delight, most were extremely friendly, often asking us about why we were selling everything. One such person was Melissa - she lived nearby and was buying a Halloween costume for her son from our OfferUp listing. We got to talking and she learned of our plans to sell everything and move into an RV while traveling the country. During the course of the conversation, she mentioned that she and her husband owned a pool cleaning business and they were expanding. They would soon have a storage area where they intended to lease space for storage containers. She said if we don't sell everything she would cut us a good deal on a container since they were just starting this venture. She even gave us an extra $5 for the costume and wished us good luck. Since our plan was to just sell everything, we didn't really give it much thought.
A few days went by. We decided it would be more efficient to call around as opposed to visiting the RV storage facilities. After calling every place within 20 miles of our house and discovering they were all full, Michelle and I started to feel anxious. We had planned to go get the bus in a few days. None of the places had room. As a last ditch effort, she decided to try Craigslist. It just so happened that the first ad that came up was from someone less than two miles from our house. They were renting space on their land for trailer, boat, or RV storage. "No way"! I heard from the other room. "I think this is the lady that bought the costume the other day!" Michelle recognized the name on the ad and messaged Melissa on OfferUp to see if it was her ad. Sure enough, it was the Melissa who had bought the costume who was renting that space - what a small world! A few hours later we had RV parking secured.
After returning home from Barstow empty handed, we were ready to move on and find another bus. A week and a half went by, but we had no solid leads on buses closer than 800 miles away. We started to feel like we might not be able to find one. Bus #3 was in Minnesota and bus #4 was in Washington, making these far more challenging and expensive to go see. Michelle started to suggest - "what if we just buy a regular motorhome - it wouldn't be the end of the world". She was right. It wasn't a great fit, but it wouldn't be the end of the world.
I continued to monitor craigslist, bus forums, facebook and other "bus for sale" types of sites. I even expanded my search to include any 35ft or less diesel RV. Then on Thursday, I got a hit on a bus locally! It was a 1964 PD-4106 and it was only about 20 miles away! Judging from the timestamp on the Craigslist ad, it had only been for sale for about two hours. I immediately called the number but was disappointed to discover that the bus had already been sold. "The lady is supposed to come pick it up on Saturday," John said over the phone. "Has she already PAID for it?" I asked. "No, but she said she will on Saturday," John replied. "Well take down my number, when she doesn't come pay, call me, I want to come look at it". "OK …" John said.
Sure enough, the next morning John called me saying the lady could not come up with the money. The bus was now available! John asked if we were available the next day. "SURE!" I said and we made plans to look at the bus.
Saturday afternoon we made the short drive to Apache Junction to look at the bus.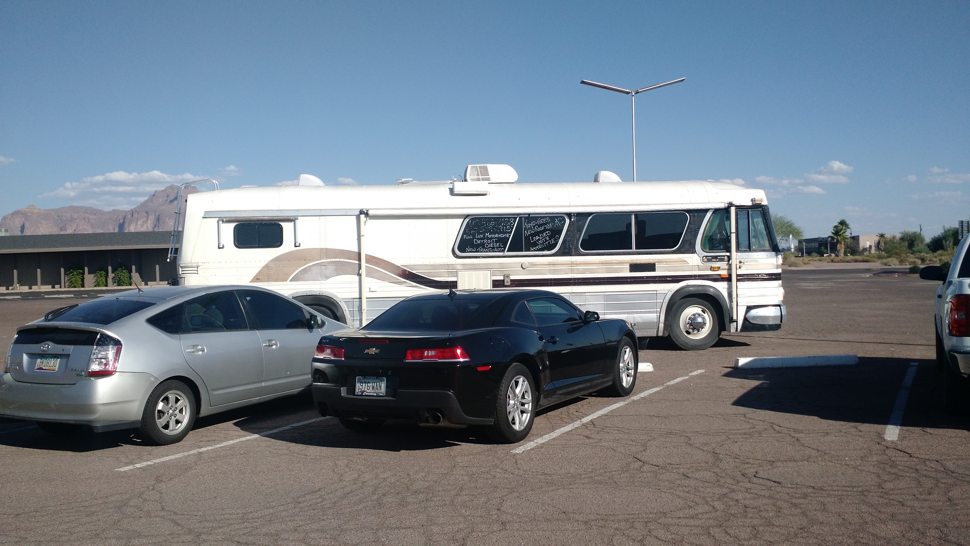 We were more confident evaluating this bus after having the Barstow bus experience. John fired up the big Detroit Diesel and there were no signs of smoking or hesitation to start. The bus just settled into a nice rhythmic hum. He then took us for a short test drive and I got to drive a second bus! This was becoming old hat. It drove nicely, had good throttle response, no crazy noises, the steering was nice and tight, and best of all the brakes worked like a dream!
Michelle and I took the next three hours to look through the bus, test out what we could, look through logbooks, and try to envision and plan for how we might use the space. We learned about the original owner and his wife. They bought the bus in 1979 from Greyhound, had it converted, and had the engine rebuilt. Since then they had traversed the entire U.S. many times over marking each pass on a wooden map hanging in the kitchen area.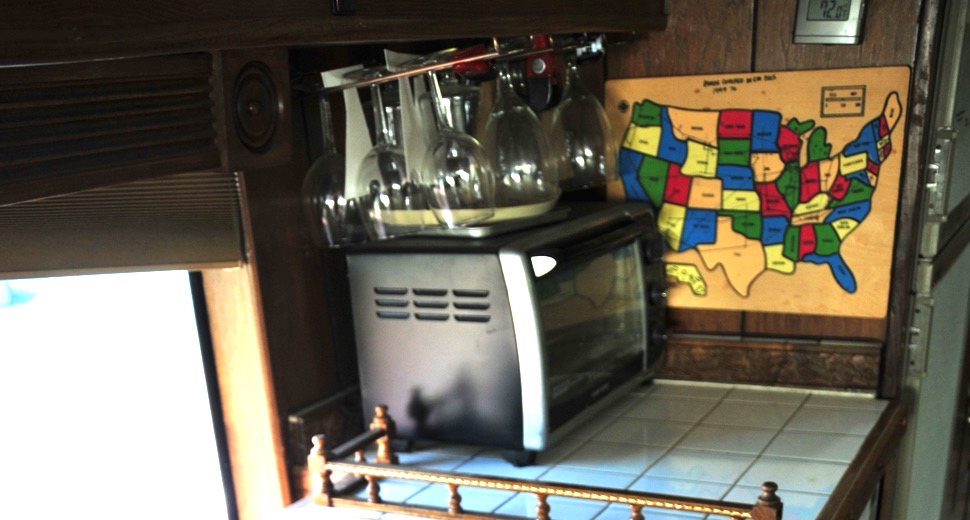 The wife died about three years ago and the husband is now in an assisted living facility. He even left his cowboy hat still in the hat holder. John is a good friend of his and we asked him if he wanted any of his personal belongings out of the bus. "Nope - he doesn't want any of it". We knew it would be quite a bit of work, but it seemed to check off all the things that were most important to us. All the systems worked, and we knew that we could renovate the interior to fit our family. With that we shook hands, handed him a load of cash, and we were the proud new owners of a really old bus.
So despite all the planning and spreadsheets, hours of time looking through bus sites and groups, worries about how we would arrange childcare and time off work to travel across the country to buy a bus, we had found our bus practically in our backyard! From the RV storage situation to actually finding a bus locally, things seem to just fall in place. God continues to faithfully show us His plans are better than the ones we come up with.