When we brought home the bus, the kids all ran out of the house excited to see where they would soon be living. "There is only two beds! Where is MY bed?!" asked the youngest. I had to warn them not to breathe too deeply when they got in there. Ha! It had some old nasty carpet with who knows what living in it. But, they thought it was really cool, nasty carpet and all. They have been dreaming this dream right alongside us, so it was a fun moment to show it to them. Click the video to see our initial tour of the "before" version of the bus.
---
---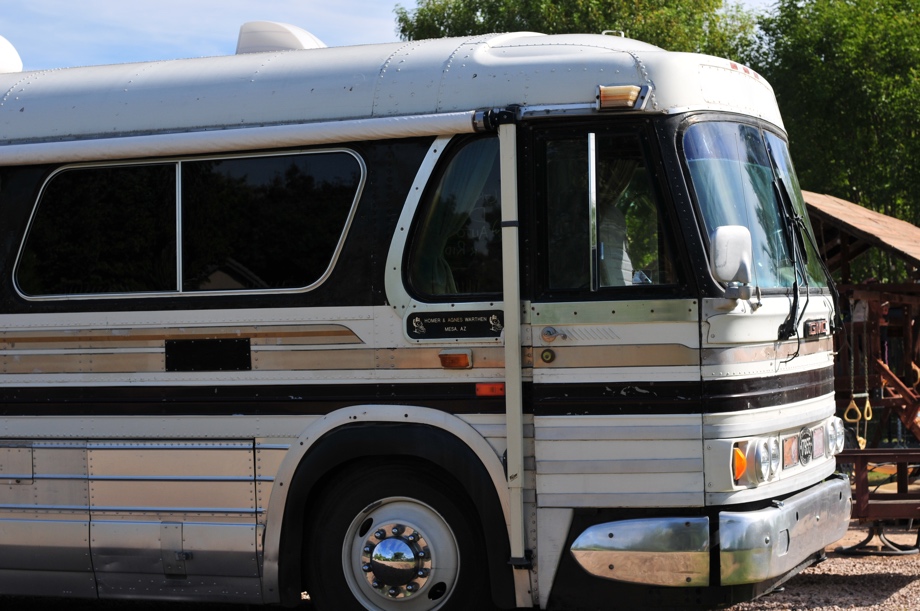 The front end of our PD-4106 - we really like the round headlights.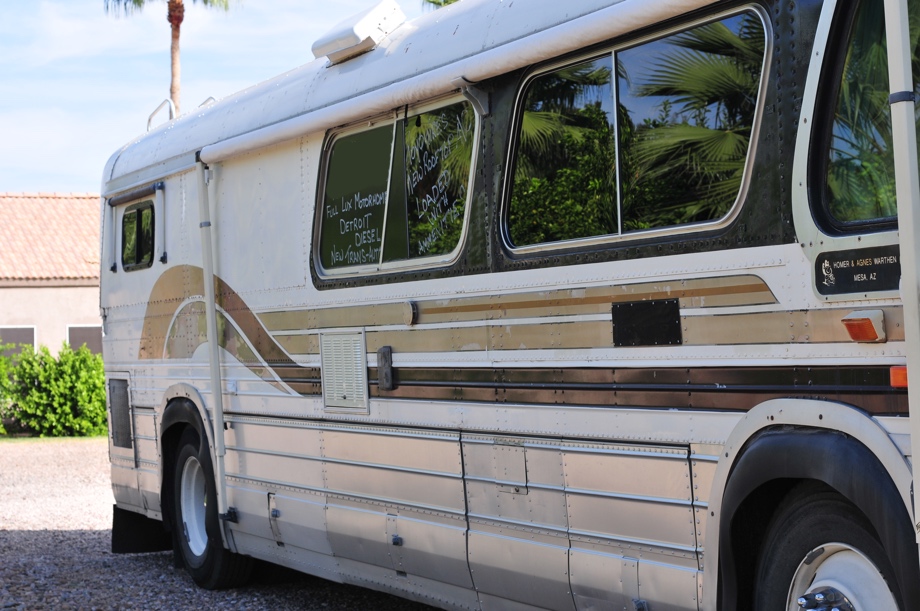 The paint is in pretty rough shape. It will need a paint job before we hit the road. We are really excited about all the basement storage!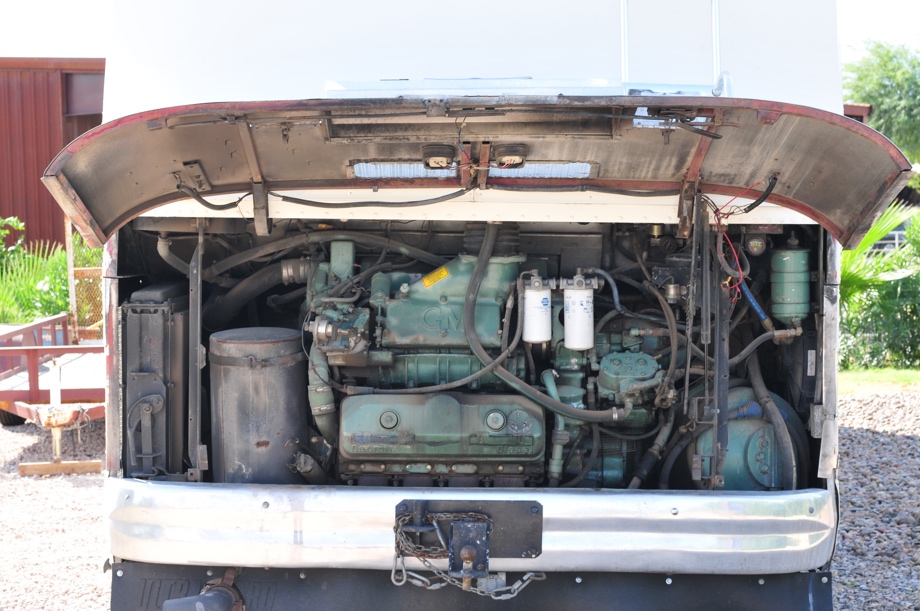 The big green engine is a Detroit Diesel 8v71. It was rebuilt at the time of the conversion and currently has just over 147,000 miles on it. It is equipped with Jake Brakes and air throttle. Transmission is an Allison V730, 3 speed automatic transmission (Marker on the window claimed it was new). The hitch is rated to 10,000 lbs. We are expecting about 6 mpg on this bad boy - so it's a good thing it has a 150 gallon gas tank!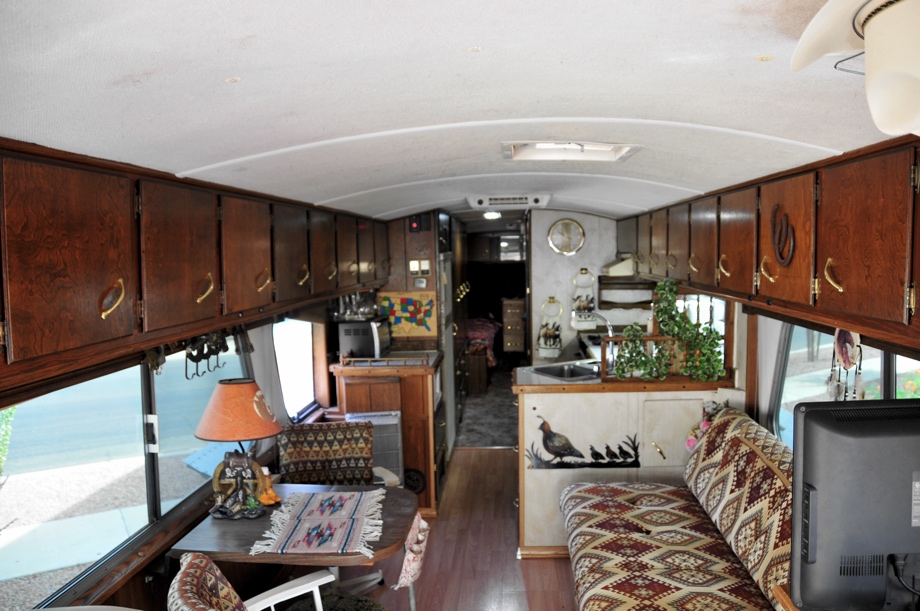 We like all the storage, but that is about it. Pretty much everything else will have to go.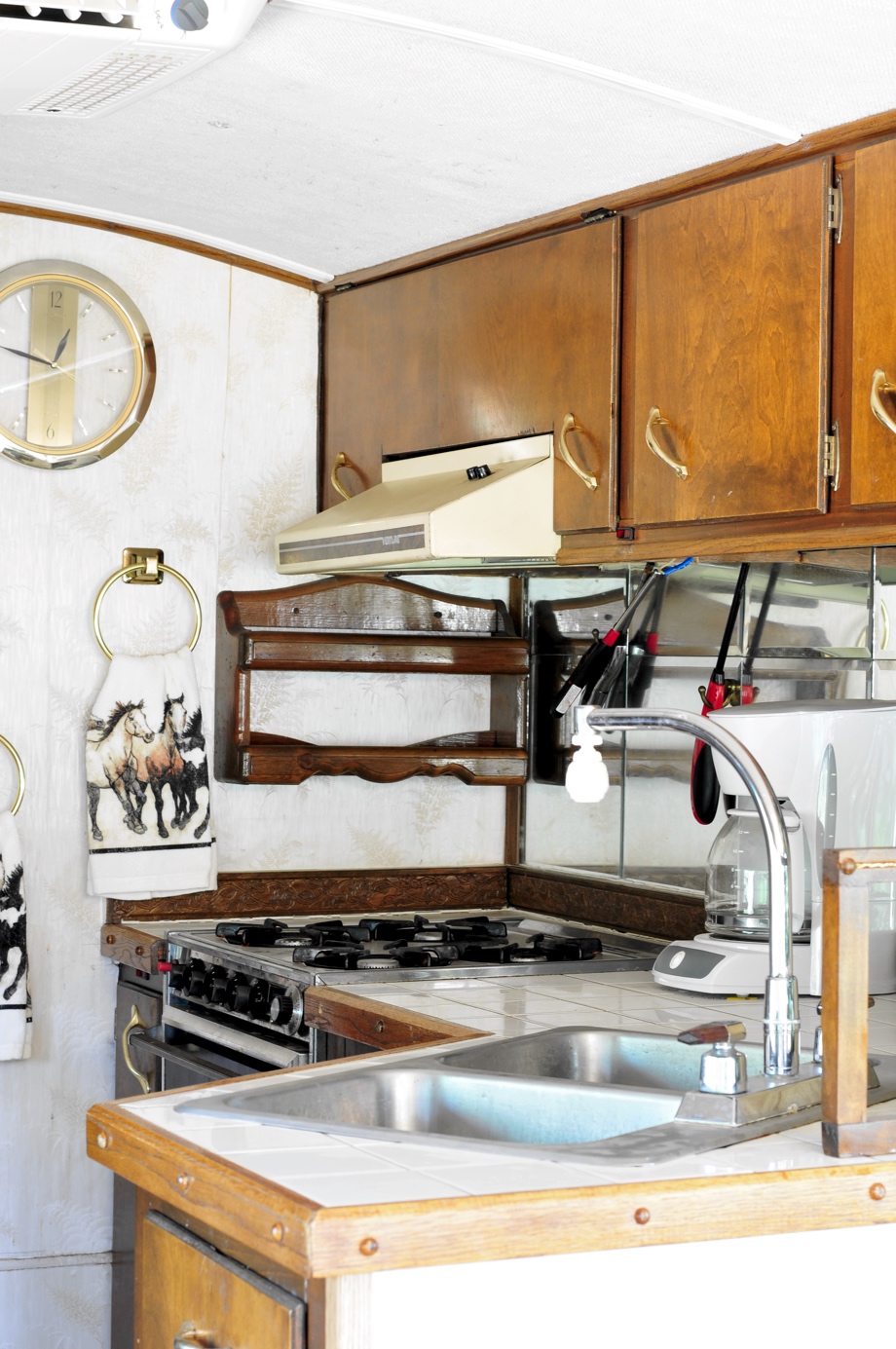 Kitchen features a stainless double sink, 4 burner propane range and oven, and "lovely" mirrored backsplash. On the other side is a small fridge, small microwave oven, and small toaster oven.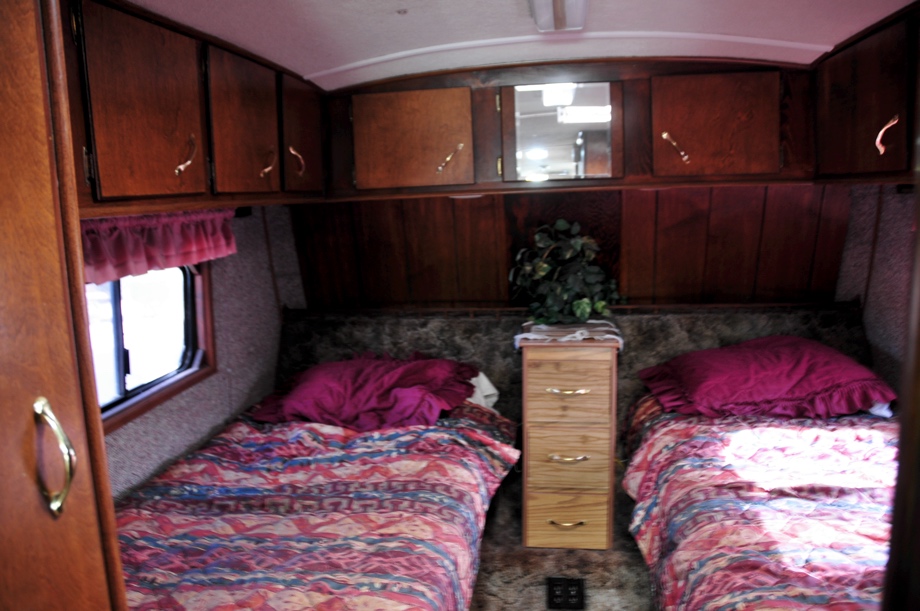 The bedroom features twin beds, two small windows, carpeted walls, and tons of storage.

Looking forward from the kitchen. The bus is cooled by a single large A/C unit and heated by a propane furnace and space heater.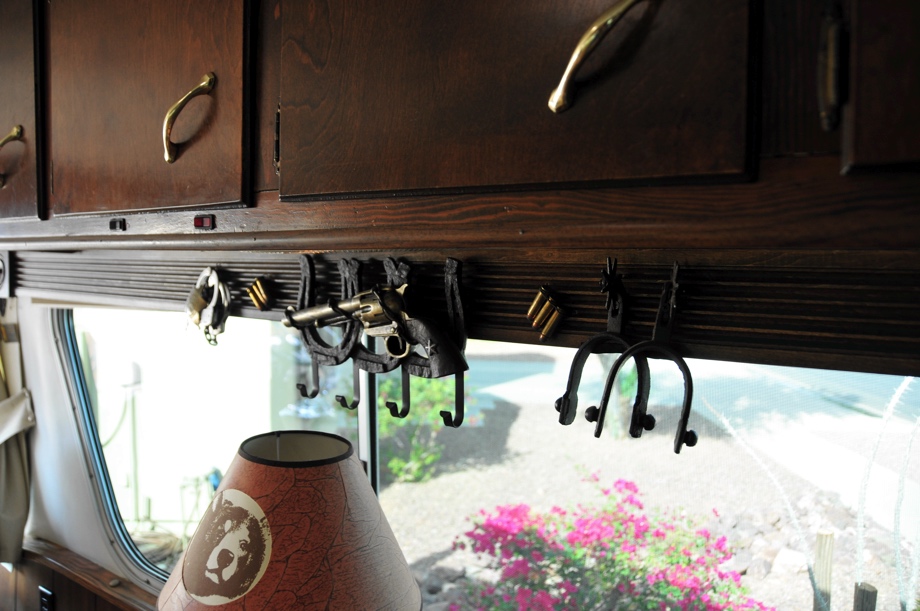 The previous owner was an old cowboy. The bus was decorated in a cowboy theme. If you look closely, you can even see his cowboy hat hanging above the driver's seat.
---
Since we can't keep the bus at our house, after the kids had a good look we drove it to the place we are renting for storage just a couple of miles down the road and dropped it off. We will have to be weekend warriors, bringing the bus to our house on Saturdays and Sundays, to get this renovation done.
Let me just forewarn you, this renovation is going to be slow. Thank goodness our goal is to hit the road in the summer. That gives us enough time - or so we thought. I am even wondering at this point if we will make that goal. We sure will try though.
Going into this, we really were hoping that we could simply do some minor renovating with a big side of "facelift" - turn the bedroom into bunks, new furniture, new kitchen cabinets, new floor, adding solar and a huge battery, but just painting the walls, painting the upper cabinets, painting the exterior, etc. But, we are "fixers" as we like to say. If you've ever seen the Tinkerbell movies, you could say that we are Tinker fairies. We very rarely hire out anything. Juan rebuilds cars, builds shelving units, rebuilds appliances, installs water heaters, etc. We even homeschool our kids - DIY education, right? So, we were totally willing to just get in there and see what this bus really needed. And, if it meant more work that initially met the eye, then we were up for it. As you will soon find out, when you start peeling back layers on this onion known as a vintage bus, you might just cry. Just kidding...sort of! :) Well, let's strap on our big kid tool belts because this is going to be a big job!