She's home!!! Our sweet, old bus is finally sitting proudly back in our driveway after five and a half months at the spa (aka body and paint shop). She crossed into Mexico in the middle of June as a sad, peeling, corroded "hot mess". She crossed back into the U.S. smooth, restored, bright and shiny with a skip in her step. We couldn't be happier with how our painter repaired and painted the exterior of our bus.
After waiting for such a long time to go pick up the bus, when we finally got word that it was ready, we were so excited. We have been anxious to see the finished product and move forward on building the interior. To be perfectly honest though, we were also a little nervous. After the crazy experience trying to get the bus across the border into Mexico to get to our painter, we were apprehensive and unsure of what would happen when we tried to get the bus back into the U.S. I literally even had a dream one night that Juan and I ended up in Mexican jail! The night before we left, we set out everything we needed to take with us, and at 1:00 a.m. I jumped out of bed realizing I had forgotten to set out our passports. Clearly, I was a bit out of sorts. Needless to say, I asked several people to be praying for us that day.
We woke up at 4:30 and were on the road at 5 am. We needed to leave ourselves plenty of daylight to drive the bus home, so we left nice and early in the morning. (After removing the headlights to paint, the painter had some trouble with the old wiring and so we knew the headlights weren't working. We had to be home before it got dark.) The paint shop is about five minutes from the border crossing at Naco, AZ, however, back in June we weren't allowed to enter there. Mexican border patrol agents made us go an hour out of our way (each direction) and cross through Agua Prieta. Would the American border patrol let us return through Naco? We really didn't want to drive that extra couple of hours. Would there be a huge inspection and questioning like last time? There were so many unknowns.
Juan and I had a really nice drive from Phoenix down to the Naco border, passing through Benson, Tombstone, and Bisbee on the way. We just love all the different types of desert habitat there are in Arizona, and southern Arizona is particularly beautiful. One area between Tombstone and Bisbee, we looked out the window and there were creosote bushes as far as the eye could see. Ahhhh - to be camped out there after a rain! If you've never been in the desert during and especially after the rain, you are truly missing one of God's gifts on earth. The smell of creosote after the rain is amazing. We can't wait to travel, but the desert will always be "home".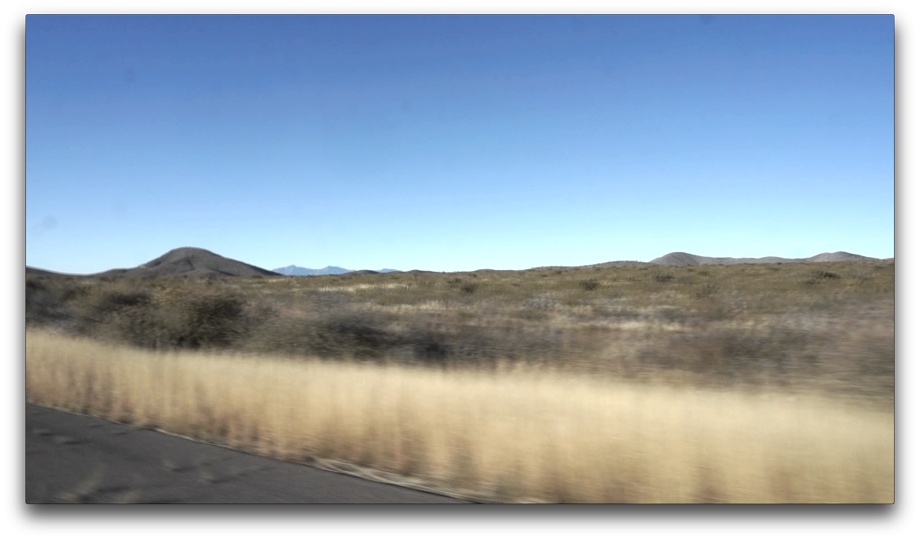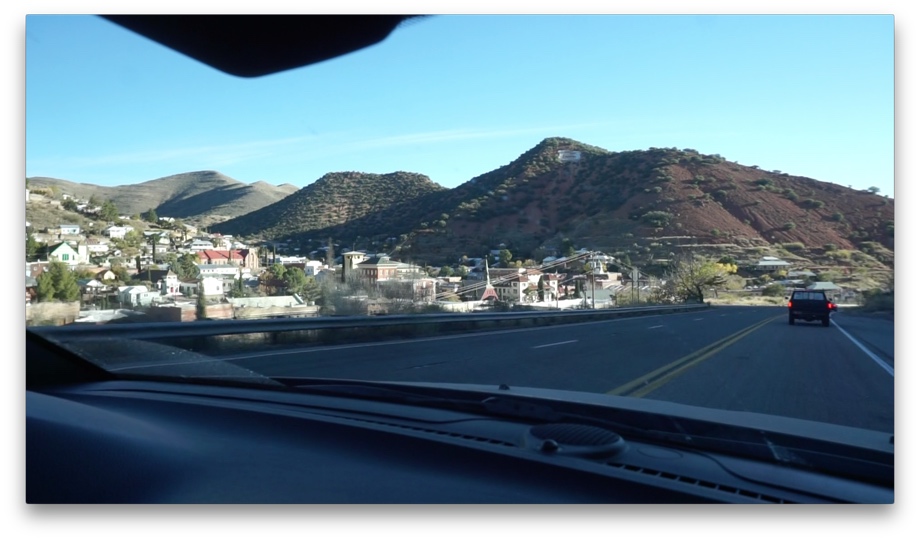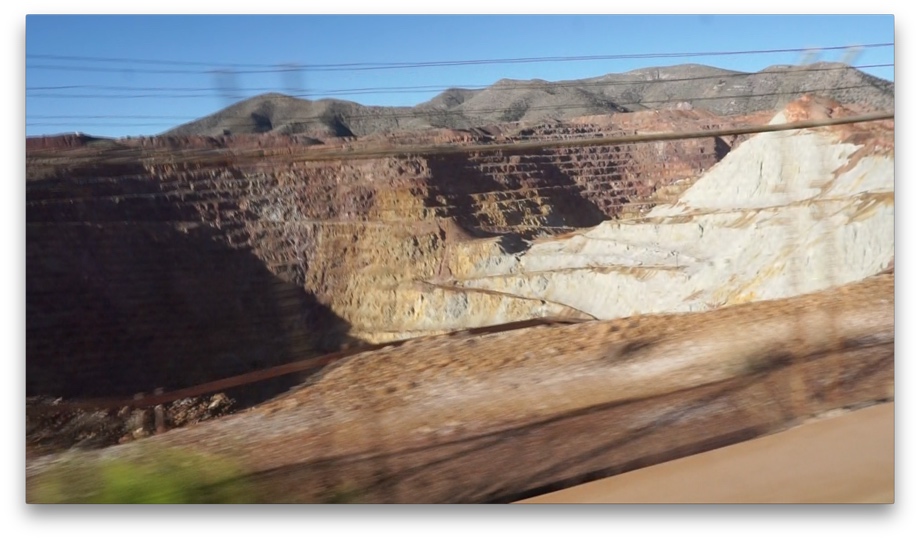 When we arrived at the border, we decided to stop before crossing through. There was a tiny little parking lot next to the American border patrol office and we stopped and got out. An officer saw us and quickly asked if he could help us with anything. We explained our situation - that we were picking up our "RV" that we had painted in Naco, MX (emphasizing the "RV" - it's not legally a bus) and wanted to see if we could bring it through this border crossing. He quickly said we could. We just needed to turn one lane sooner than the cars, where commercial vehicles go, just since it's so long. They would check it out and x-ray it there. Yay! Problem one solved - we weren't going to have to drive two hours out of our way. We were back in the car and on our way to the paint shop.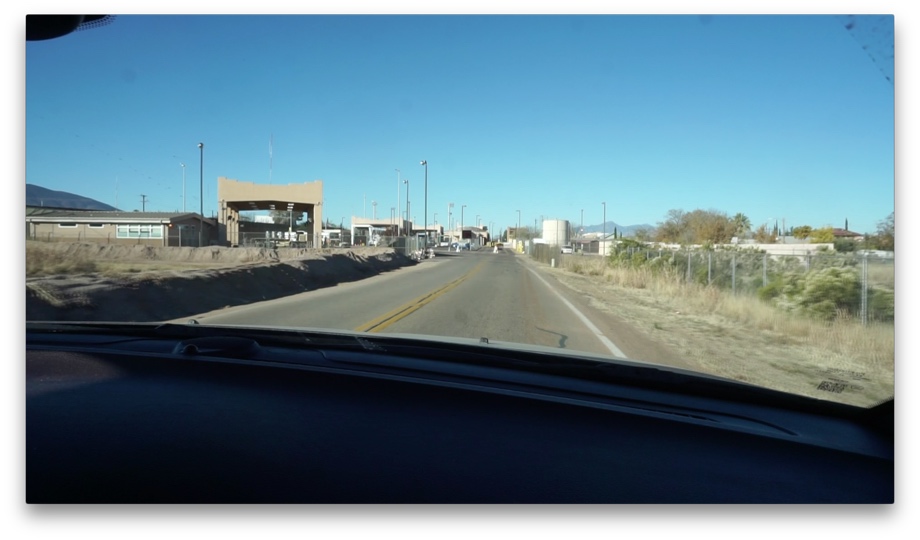 Since we had left ourselves a buffer of time for any incidents, we arrived at the shop about 30 minutes to 1 hour sooner than we told the painter we would be there. They were finishing washing and drying the bus as we pulled up. We had seen pictures of the entire paint process over the last few months, but seeing it in person was unreal. I couldn't believe this was our bus! She looked so good. I knew that was what she was going to look like - I mean, it was exactly what we designed - but it was still a little surreal to see it in person. I kept telling Juan, "It's just so shiny!" I couldn't stop smiling. I just wanted to run and hug the painter and his guys. (I actually did give him a big hug before we left).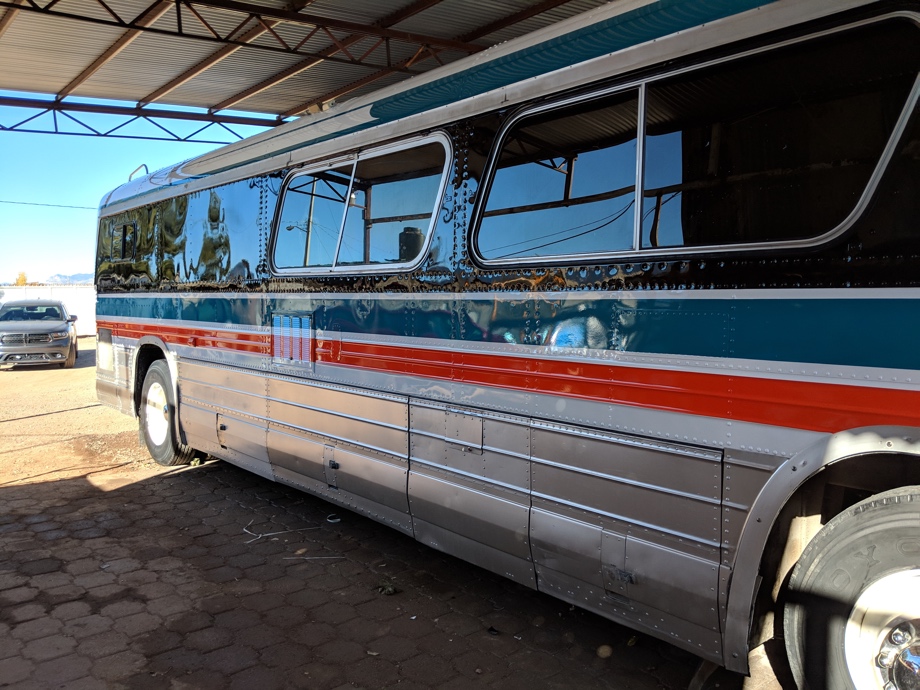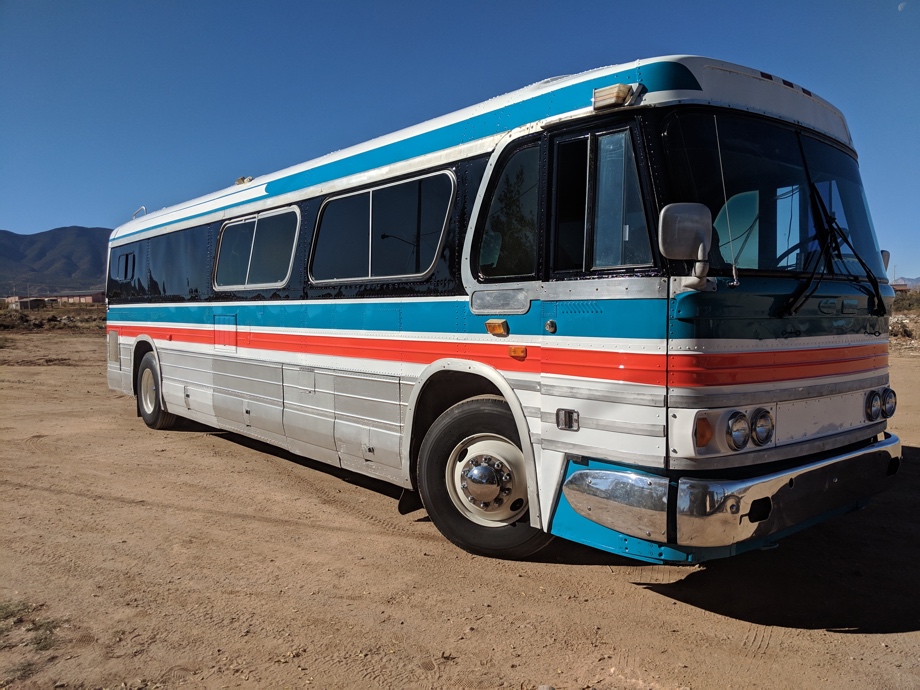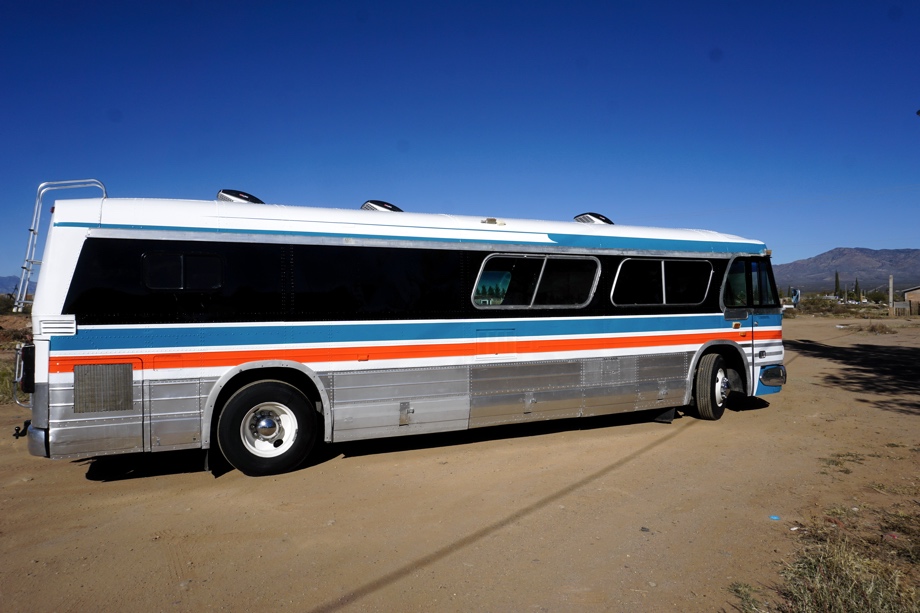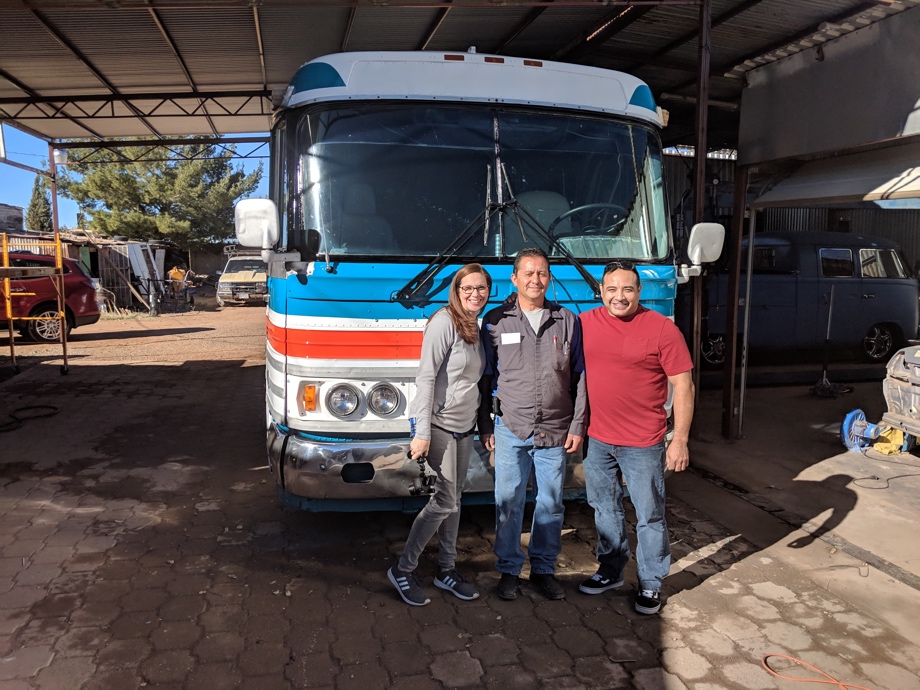 *For some reason, the colors aren't showing up quite right in these pictures. The blue color is more of a teal green/blue and the bright color is a reddish orange. The video shows the colors more accurately.
There were a handful of things he needed to share with us and we needed to ask him, but after being there for about an hour, we were ready to pull out of the shop. A funny thing that happened right at this moment was the bus wouldn't start. Super funny! What in the world? We were thinking, "Ok, this is it, we're stuck in Mexico with dead batteries that we probably can't even find here. The morning has gone too smoothly." Thankfully, we quickly figured out that one of the painter's guys that had stuck the keys in the bus had put the wrong key in the ignition. LOL! Whew. With the correct key in, those two big 8D batteries cranked and the engine roared. Juan backed the bus out of the shop and we rolled back out of town.
Just a few short minutes later, we were ready to cross back through to the U.S. There was literally only one Mexican border patrol agent in sight, and she just asked Juan if he thought he would be able to squeeze through the barricades and waved him goodbye. He had probably a less than 1" clearance on each side, but pulled through and turned where the American border patrol had told us. At the same time, I followed behind in the car and pulled up to the guard station. I handed him my passport and he asked me the typical questions. "Where are you from?" "Gilbert" "How long have you been here?" "Oh, about an hour and a half. That's my husband up there in our 'RV'. We just picked it up from our painter here." "Did you buy anything - fruit, alcohol?" "No, sir, just picked up the 'RV'." "So is that a tour bus?" "No, sir, it's an RV." "Okay, you can go wait for him over there, have a nice day." "Thank you, sir, you, too." As I was pulling through, he shouted over to the other agent walking up to the bus, "Hey, that's an RV." hahaha
Juan waited up where they had told him to, and the agent came over. He simply asked for his registration and passport. Juan asked if he needed to open the bay doors or come inside. He said no. "Hey, are you starting a band?" he asked. LOL! "No, it's just our family RV." "Okay, just pull up here and we'll run the x-rays. After several minutes, that was all done, and they sent Juan on his way. What??? Night and day difference from the experience trying to cross into Mexico.
We just had to laugh. And breathe the most gigantic sigh of relief. And text everyone that had been praying for us and tell them everything had gone great!
We had given ourselves about two hours of extra time to get home, just in case we had similar problems to last time. Thankfully, this went more smoothly than we could have even hoped for. Juan put some oil in the engine to make sure it was all full, and we pulled away from the border.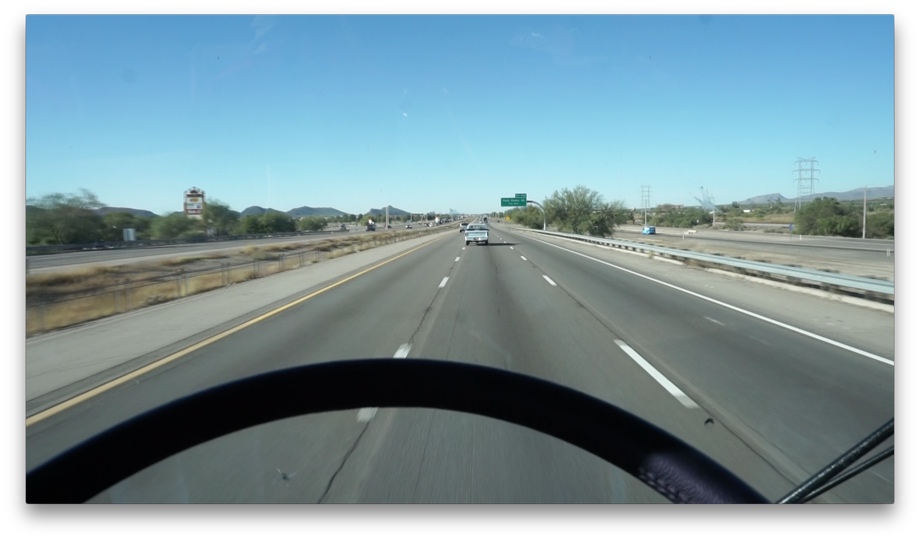 The drive back home was uneventful - that's the best kind of drive in an old bus. We even stopped and had a leisurely lunch at In-n-Out, eating outside on the patio while we stared across the parking lot in disbelief that the striped beauty was the same bus as the old ragamuffin we left five months ago. We finished our drive home and pulled into our driveway at 4:00 pm.
We haven't even had time to take some nice "beauty shots" yet, just a few quick shots as we picked her up and in the driveway. We are going to try to take some better pictures and put together a quick before and after post of the paint next week. We'll also include some details of how we designed the paint scheme.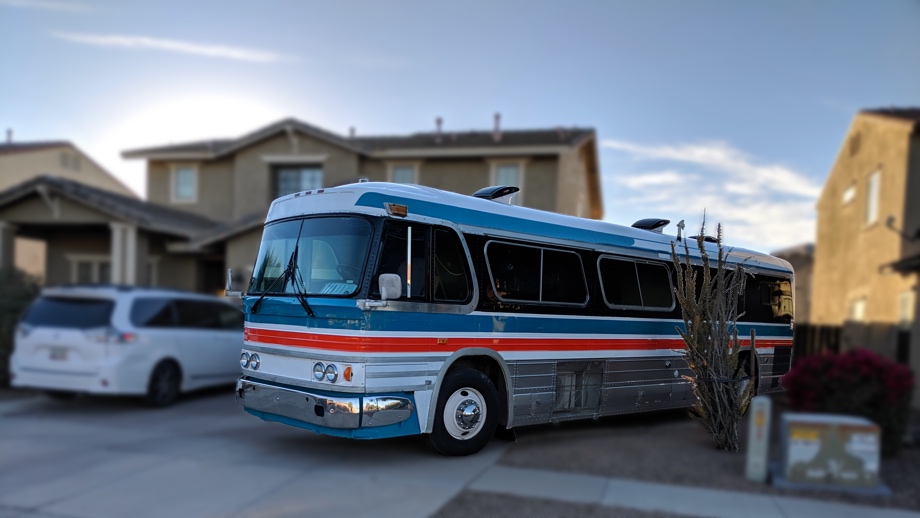 We are thrilled the bus is back. She seems right at home sitting back in our driveway. Our neighbors were so excited to see her back and pretty. (We seriously have the best neighbors to put up with us and this bus, especially in her previous condition. ha!) Now, we get back to work. A few key issues to address quickly, like those headlights among others. Hopefully, it won't be long before we can start installing our solar rack and panels and then get started on the interior build. So much to come!
Thanks to all of you for being patient with us over the last several months as we waited to pick up the bus. And, especially, thank you all for being excited for us and with us. It is definitely a huge encouragement to know we have friends near and far cheering us on.
*In the video, Juan goes into a little more detail of what the painter did for bodywork, prep, and paint. The previous paint was in really bad shape, there were many layers (like maybe 8?), corrosion to deal with in several spots, and some other body repairs that needed to be addressed. All of that led to the final price being slightly higher than the original quote of $6500. The additional costs were:
removing all the extra layers of paint down to the bare aluminum, sanding around every single rivet (can you even imagine?) and the multiple different primers required for prepping aluminum ($1375)
3 tubes of seam sealer (the previous paint job didn't seem to have the seams sealed at all!?!) ($135)
Fabricating a new destination sign plate and a new spare tire bay cover and a couple other small pieces ($30)
The final total was $8040, which we were happy to pay for a long-lasting job well done. Especially considering local quotes we got for the same exact thing were over $20,000. We were very happy with the painter and the wonderful job he did. Please let us know if you're in the market for a paint job and would like his information.
UPDATE
We talked to the painter to ensure that it was OK for us to pass along his information. He said, "Of course, this is how I make my living!". His name is Juan Carlos, but most people just call him Carlos. His business is called "Taller de Carroceria y Pintura" and he can be reached at (520)234-6010. He is located in Naco, Mexico, right across the border from Naco, Arizona. He does speak English, but if you speak Spanish, he speaks better Spanish than English ;). He is very kind and helpful and did a wonderful job. We have no hesitation in recommending him and his shop.
Watch the video:
Click here If you cannot see the video.