Back in March, it was already getting close to 100 degrees F here in the Phoenix area. We knew we needed to get the bus insulated quickly. We researched several options but decided to go with Roxul AFB. Our friends the Bareneckers had used it on their Airstream renovation, and after researching it and reading reviews, we decided to give it a go.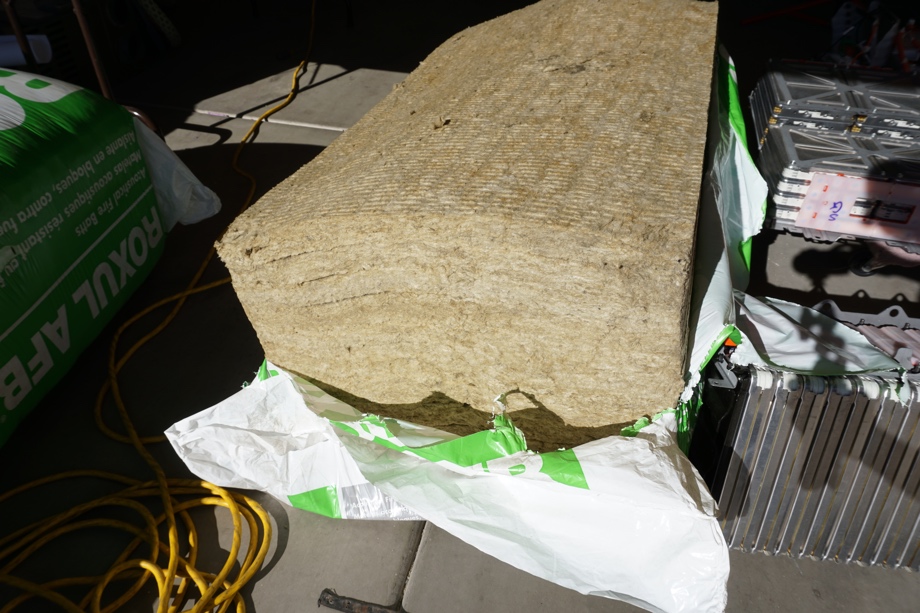 From their website, "This stone wool-based insulation is made from natural stone and recycled content. It's a sustainable product that provides superior sound absorbency and fire protection for overall occupant comfort and safety." It's can withstand temperatures up to 2150 degrees F. Also, "ROXUL AFB will not absorb or hold water and will not promote mold or fungi growth. It has superior drying potential, effectively managing moisture in the event that it does get into the wall or floor, allowing it to dry out and maintain its sound and fire properties."
Bonus, it comes in exactly the thickness we needed, 1.5". Unfortunately, locally we couldn't order less than an entire pallet. We really didn't need that much, so we found an online source that would allow us to order it by the bag.
This was a fairly quick and easy project. Because Roxul is made of wool, it really is not itchy like fiberglass. I cut it easily with a serrated drywall knife, and then we just put each section in place. I was able to tear small pieces by hand where I needed just a small bit to fill in.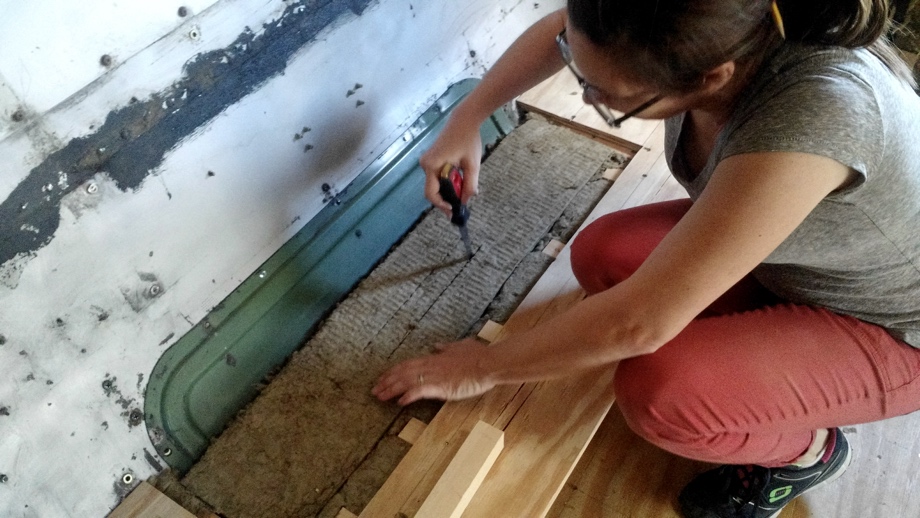 Dominic was able to help quite a bit with this project, measuring and cutting alongside me.
After the Roxul was in place, we quickly noticed that it was much quieter inside. Hopefully, it will keep the temperature a little bit more stable inside as well.
Unfortunately, not long after we insulated the walls, we decided we really had to rip out the ceilings as well (we originally thought we were not going to do that). We have not yet re-insulated the ceilings, so it has been super hot inside the bus all summer with the heat just pounding through our uninsulated metal roof. We will need to buy a couple more bags of Roxul to finish the ceiling.
Thankfully, we don't have any dramatic or crazy stories from this small part of the renovation. There will be plenty more of those to come, I'm sure. That day, however, we were simply happy with how the Roxul insulation project turned out.
Check out the video to see this project in action.
Click here If you cannot see the video.