After spending about five minutes in the bus, my allergies were going haywire. The first day we spent some time looking through it just doing inspections, taking measurements, etc. left me unable to breathe through my nose for the next few days. What was living in this bus? It was mandatory that we get respirator masks pronto.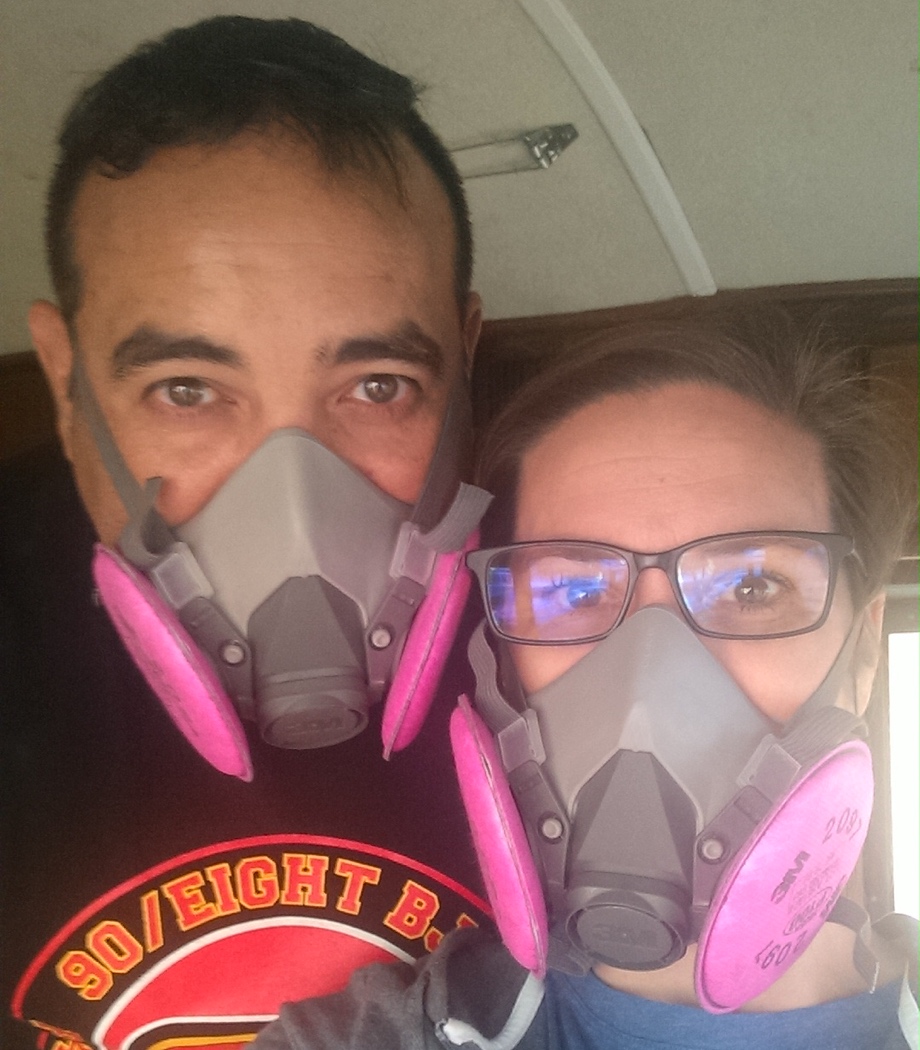 On day one of the demo, we just wanted to open up space in the living room to give us room to work. So, the first order of business was removing the extremely dusty window shades and cornice boards. Just getting those down already made the bus feel cleaner and let in so much more light. Next up was getting rid of the end table and couch. Unlike in a house where you can just pick up a piece of furniture and move it, in an RV everything is bolted down. In the case of our old bus conversion, everything was built in place, and as we discovered often not built very well. Juan got to work removing this living room furniture and finagling it out of the bus while I was in the house getting the 3 year old down for a nap. Luckily, he made quick work of it. By the time I got back outside to help, all I found was a heap of messy wires and cable that had been hiding behind the couch - just a preview of what was to come.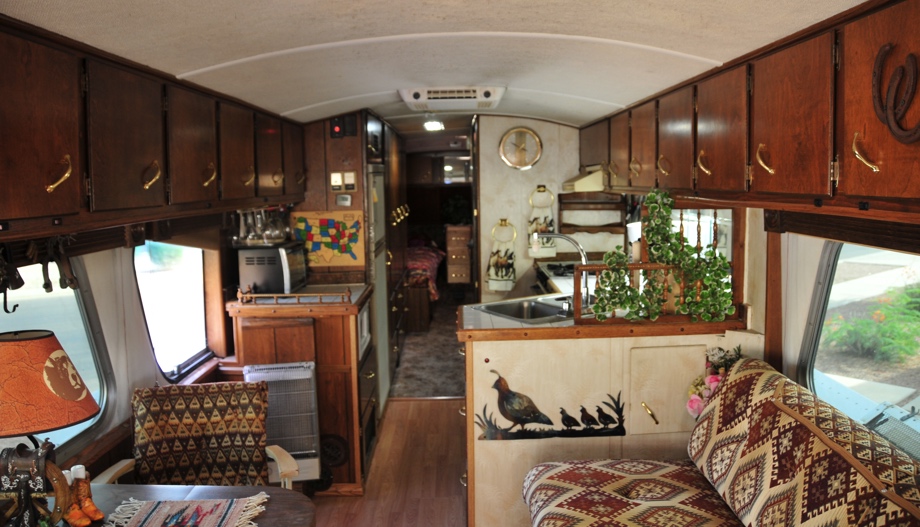 The next thing we tackled was taking apart a small cabinet that covered the furnace. It had a space heater attached to the side of it, as well as a tiny microwave on a shelf, and a toaster oven sitting on the counter. We discovered that both the microwave and toaster oven had been hard-wired in. It was a pretty rickety cabinet that seemed to be a bad use of space, especially for our large family. We were sure we could come up with a better set up in that space, so it got pulled apart and put in the "go to the dump" pile.
We only had a little bit of time on the first day, so we wrapped it up with getting the two twin mattresses out. This revealed a little surprise underneath - different carpet. We'll share more about that in a future post.
Check out the video to see Day One demo in action. Click here if you are reading this in email and can't see the video.
Day two of demo was all about the kitchen. Oh, the lovely kitchen! We knew that we wanted to completely redo the kitchen. We want a straight bank of cabinets without the curved area where the sink was. As we started taking things apart, we realized that this beast of cabinets was really just rigged together. Poor carpentry skills were evident. It was mostly nailed together instead of screwed, and it was just a mess underneath.
After all the cabinets, sink, stove, and countertop were out, we were left with a huge mess of drains and pipes underneath. There was a small 30 gallon fresh water tank, the water pump, the city water inlet, and a 6 gallon water heater all hiding behind the cabinets. Because of the placement of all of that, the pipes and drains were all at the front of the cabinets. This meant, there was practically zero storage in the kitchen. And, oh yeah, the subfloor was rotting out. Clearly, something had leaked at some point in there.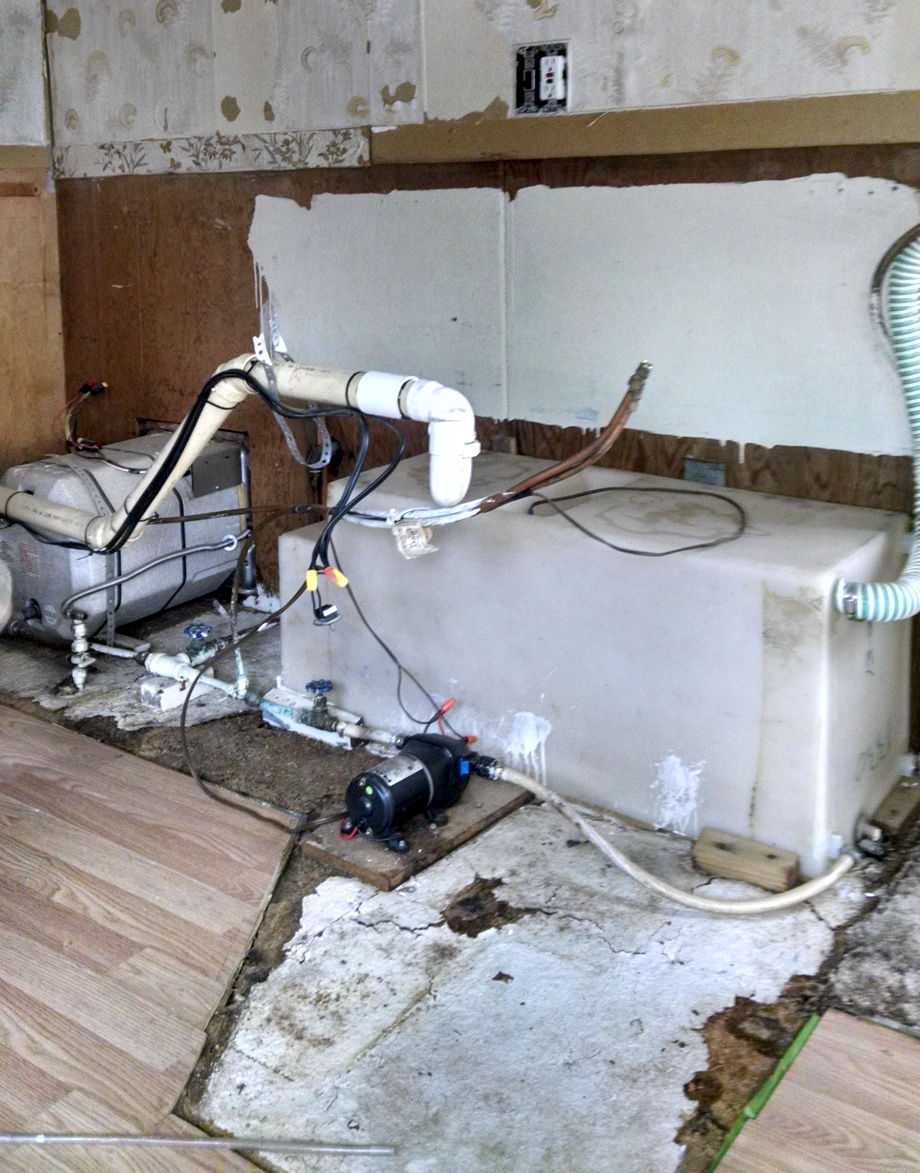 Juan decided to take down the lovely mirrored backsplash next. Man, that stuff was really stuck on there. We knew this renovation would take our blood, sweat, and tears, and I guess this is where the blood part came in. He did get a few scrapes from the glass breaking as he pried it off.
By the end of this kitchen demo, we were both a little loopy.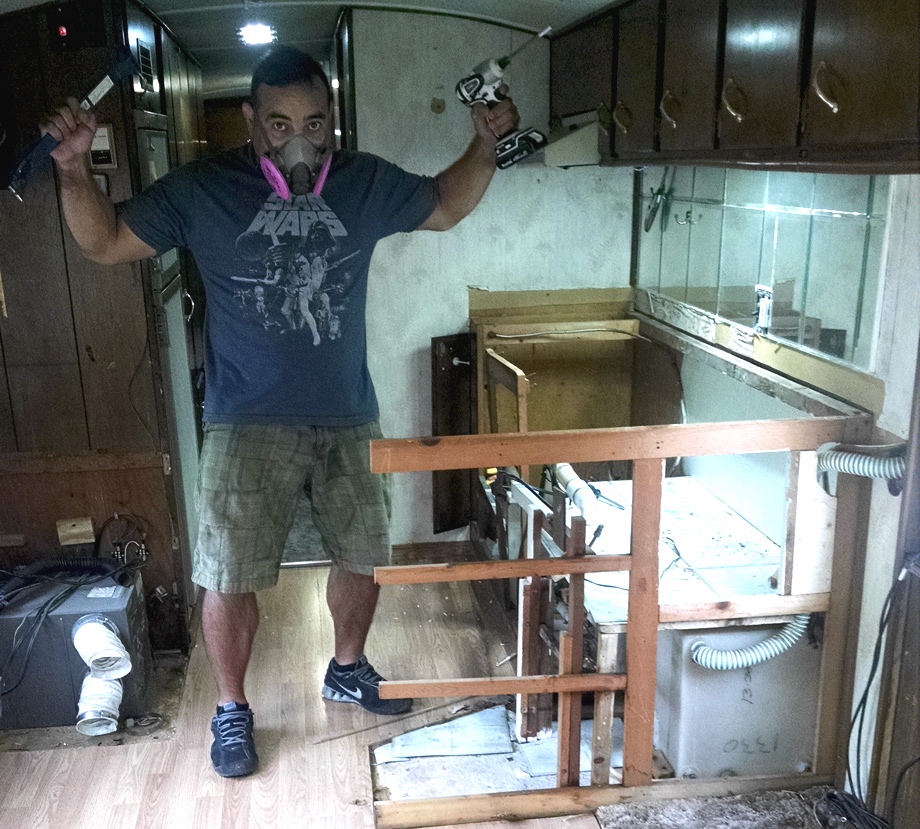 Even though it was looking like a huge mess, opening things up was giving us plenty of ideas for how to redo it all. So many options for such a tiny space. We realized that we could extend the kitchen a little further than it was, and if we move the fresh water to one of the storage bays, we can put a combo washer/dryer in the kitchen!! This is a big deal for us - we will be able to do laundry in the bus and not have to use a laundromat. (Flash forward: We just found the exact washer/dryer unit we wanted on craigslist for half the price of new, and it's only been used for about five months. Whoo hoo!! The couple we bought it from was the nicest, sweetest couple. We are already loving this RVing community, and we aren't even on the road yet.)
Check out the video to see Day Two demo fun. Click here if you are reading this in email and can't see the video.


Next up: carpets, dust galore, and the domino effect