I think about 90% of our projects have ended up with Plan B (or C or D). Maybe not really 90%, but in the midst of troubleshooting and coming up with new ideas on the fly, it sure seems like it is that high. At this point, when a project works out as we originally planned, we are genuinely surprised. Most of the time when we are working on a bus project, we are both holding our breath, just waiting for the moment when there's a kink we have to work out.
In the case of switching barely passable halogen headlights for LED headlights, we had multiple kinks in just figuring out what headlights we could use. We showed you that debacle last week. In the end, it boiled down to the fact that the bus's stock 5 ¾" headlight buckets are so shallow (because they're made for halogen bulbs). The purpose of those buckets was to hold the bracket that allows you to adjust the angle of the lights so they don't blind oncoming traffic.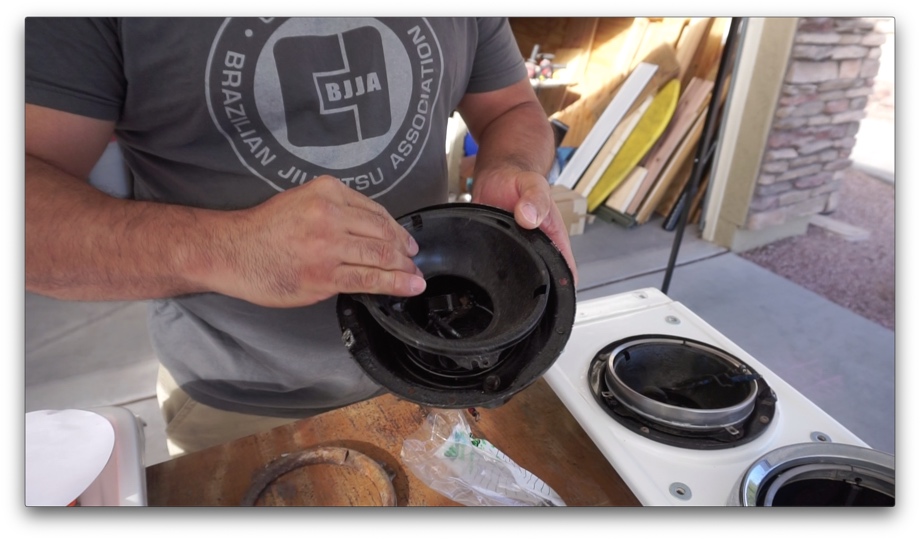 Our solution was to ditch the buckets. We could have bought new 5 ¾" brackets to replace the stock buckets, but those were $81.00 each and very hard to find. We decided to move up to 7" LED headlights which dropped the price of the brackets to under $20.00 each and made finding lights much easier.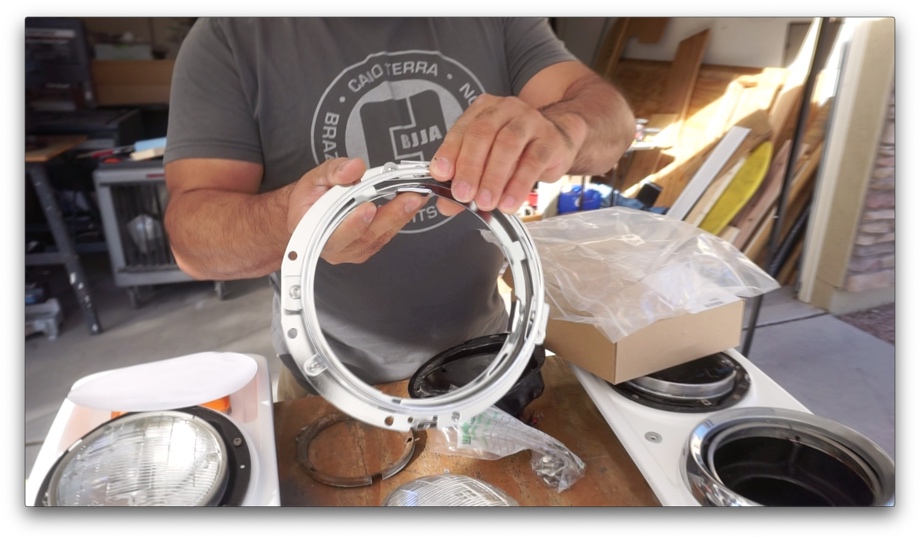 7" lights are the standard size for Harley Davidson Cruiser motorcycles and Jeeps so they are much more abundant. Could we install the brackets directly to the fiberglass fascia on the front of the bus? Could we make it fit? It took some finagling, but we got the new lights to fit! Hallelujah!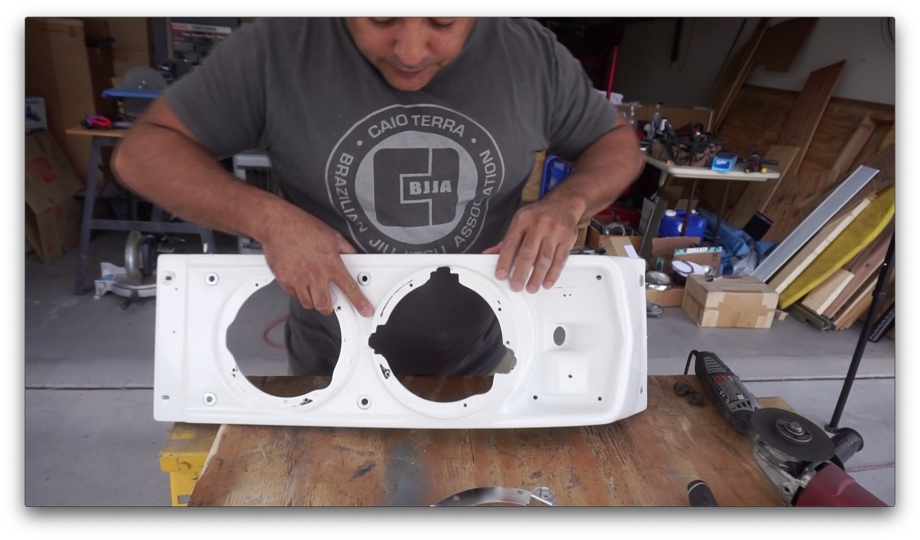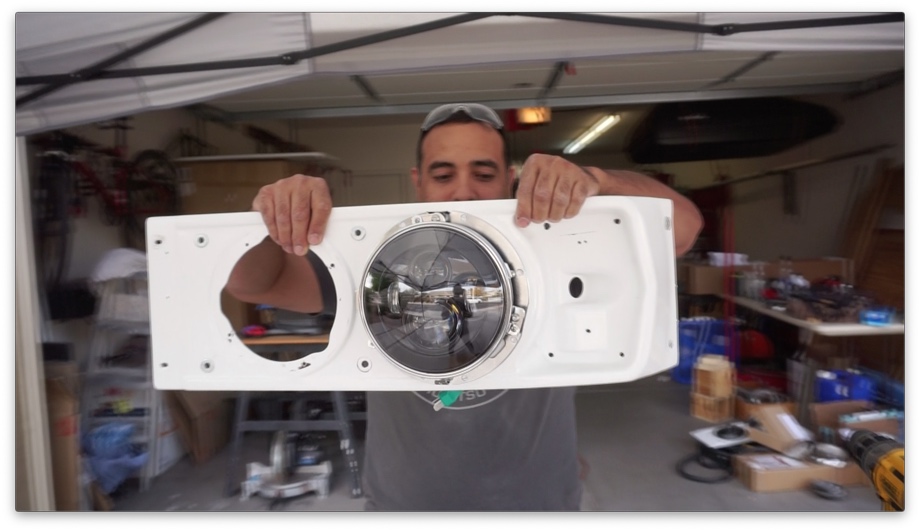 We did have to make a few notches into the fiberglass and drill new mounting holes, but in the end, it worked. Phew! We added chrome bezels to finish them off and dress them up. Now, they just look like the "monster-version" of the originals. Still round with chrome rings, just bigger and more powerful! And, we can finally see safely at night. Truly, more than the aesthetics, that's the whole reason we did this. The previous halogens put out such a pitiful little glow right in front of the bus, it was scary. The amount of light the new LED headlights put out is much safer.
We also got an unexpected bonus with the turn signals! The front light fascias have a molded space for the original turn signal lenses. I'm sure those lenses broke at some point in the past, and unfortunately, they're not easy to come by. You pretty much have to get them off of another PD4106. The previous owner had simply mounted some small truck/trailer turn signals into the place where the original lenses were. They worked but definitely took away from the original, vintage look. We have been keeping our ears and eyes open for months and months to see if we could locate any of the original lenses to replace them with. We had given up. We really thought we'd just live with what we had.
Enter bus friends! Some new friends with the same bus as ours were going to be in our neck of the woods, and so we arranged for them to drop by for a visit. We talked buses and traveling and adventures and stories. Well, they saw our bus's sad turn signals and said, "We have some extra original turn signal lenses." What?? How?? It turns out that the man they bought their bus from had multiple old buses and gave them some of the parts from these buses. So, lo and behold, out of nowhere we had beautiful, old, original lenses! After a quick polish and some new weatherstripping, they were installed and looked fabulous!! We used LED bulbs and found a fixture for the bulb that just happened to fit perfectly where the old halogen bulb had fit.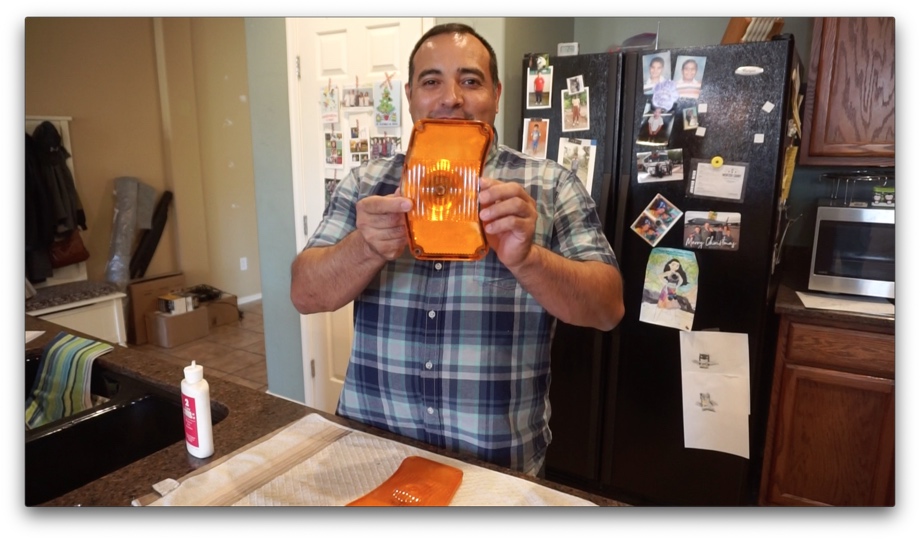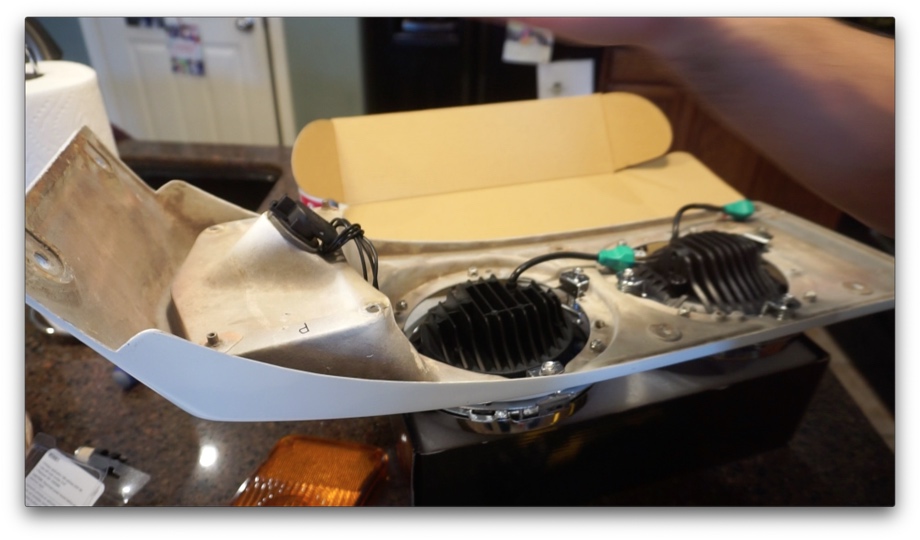 So, for all the projects where we have to come up with plans B, C, or D, every once in a while we have an unexpected bonus that is easy and just makes us smile! Seriously, we love these turn signal lenses. Sounds silly, but it's like the cherry on top of all of these lights projects. Thank you so, so much, Steve & Susan!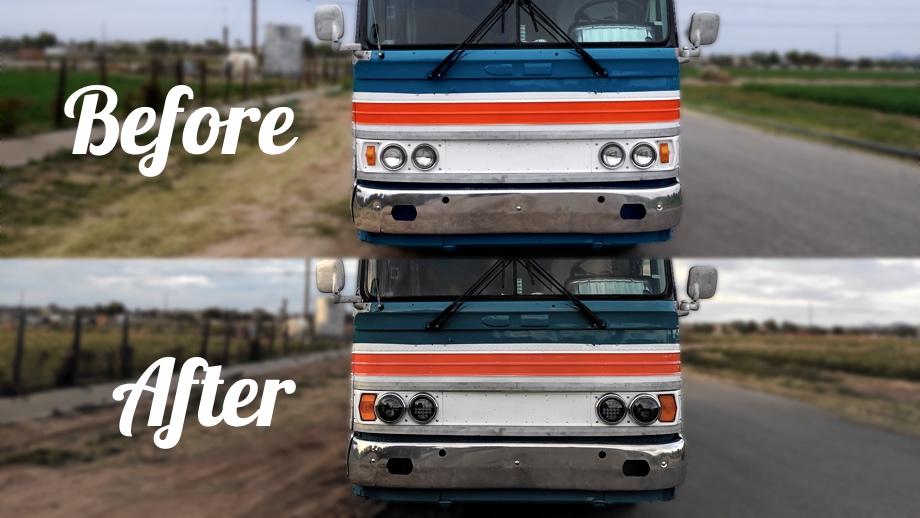 In the end, while it took lots of testing and thinking "outside the bucket", we are very happy with how the new headlights turned out. Coming up next: replacing rubber hinges on our bay doors...then, finally, solar install!!
Watch the video:
Click here If you cannot see the video.
Parts We Used
Tools we used