A year and a half ago, we still were figuring out the complete scope of this renovation. We originally thought that we would leave the original bus ceiling with its insulation and simply clad over the top of that as the previous owner had done (we had already ripped out his "mouse fur" ceiling). We proceeded with insulating the bus below the ceiling with a mineral wool insulation from Roxul, now called Rockwool.
We have been really happy with the Roxul and chose it for a few different reasons: it has no off-gassing or toxic fumes, it's non-combustible even when exposed to direct flames, it is mold and fungus resistant, it is great at sound deadening, it is very easy to work with, and it was the exact thickness we needed to fit in our walls. We did research some of the other types of insulation that are commonly used in bus conversions like spray foam and foam boards. For various reasons that we discuss in the video, we opted against those options.
Not long after beginning that insulating project, we ended up deciding to rip out the ceiling after a piece of the old insulation hiding in the ceiling of a lower bay changed our minds. Would you like to know how we discovered that insulation tucked up in there? It caught on fire!! Juan was using the angle grinder down in the bay and as the sparks flew, one happened to find a corner of this old original insulation. It immediately was flaming - big, huge flames. He grabbed it and threw it into the driveway and we watched as it burned for ten minutes before it finally sputtered out. Right then and there, we decided every single lurking piece of the original insulation was coming out. That meant removing the ceiling panels. In hindsight, I don't know why we thought taking down the ceiling panels was such a big deal. It was disgusting! But, not that big of a deal. We should have done that from the start. Thank goodness that we had that little fire incident to show us the dangers of what was lurking inside.
After all of that, we ended up reorganizing our build plans and moving outside to work on the battery, solar, water tanks, solar, paint, lights, and a million other projects. The inside has waited for a long time for attention. However, during this past year, we started hearing more and more about different insulation products that people were using. One that kept coming up was a ⅛" ceramic insulation used for both industrial applications as well as motor coaches. It is called EHP Rollboard. People seem to really like using this in addition to their main insulation to give it an extra boost. It piqued our interest, and we began researching this product.
As we explain in the video, it sounded promising but also seemed fairly expensive. Insulation is no place to cheap out, though, so we are willing to spend money if it really does make a significant difference. We decided to research and see if we could find another similar product that was less expensive. Luckily, we did. It is called Ceratex and, on paper at least, it seemed like it was extremely similar to the EHP. We ordered some samples of each and set up some testing for both EHP Rollboard and Ceratex to see how they performed head-to-head. Did they have similar insulating properties? Does either of them add enough insulating value to the Rockwool we are already using to make it worth the additional cost?
In the video, we discuss these products and share how we set up some at-home testing to try to answer these questions. We used our home freezer and oven for testing hot and cold environments. In this article, however, we will just jump straight into the results:
As we discussed in the video, we set up controls for both the USB data logger we used as well as the box we selected to run the tests in. These graphs will have these controls for reference with the legend on the right-hand side.
Head to Head Testing
In the head to head testing of the EHP Rollboard and Ceratex they performed very similarly, but the Ceratex seemed to show an ever so slight advantage.
Freezer Results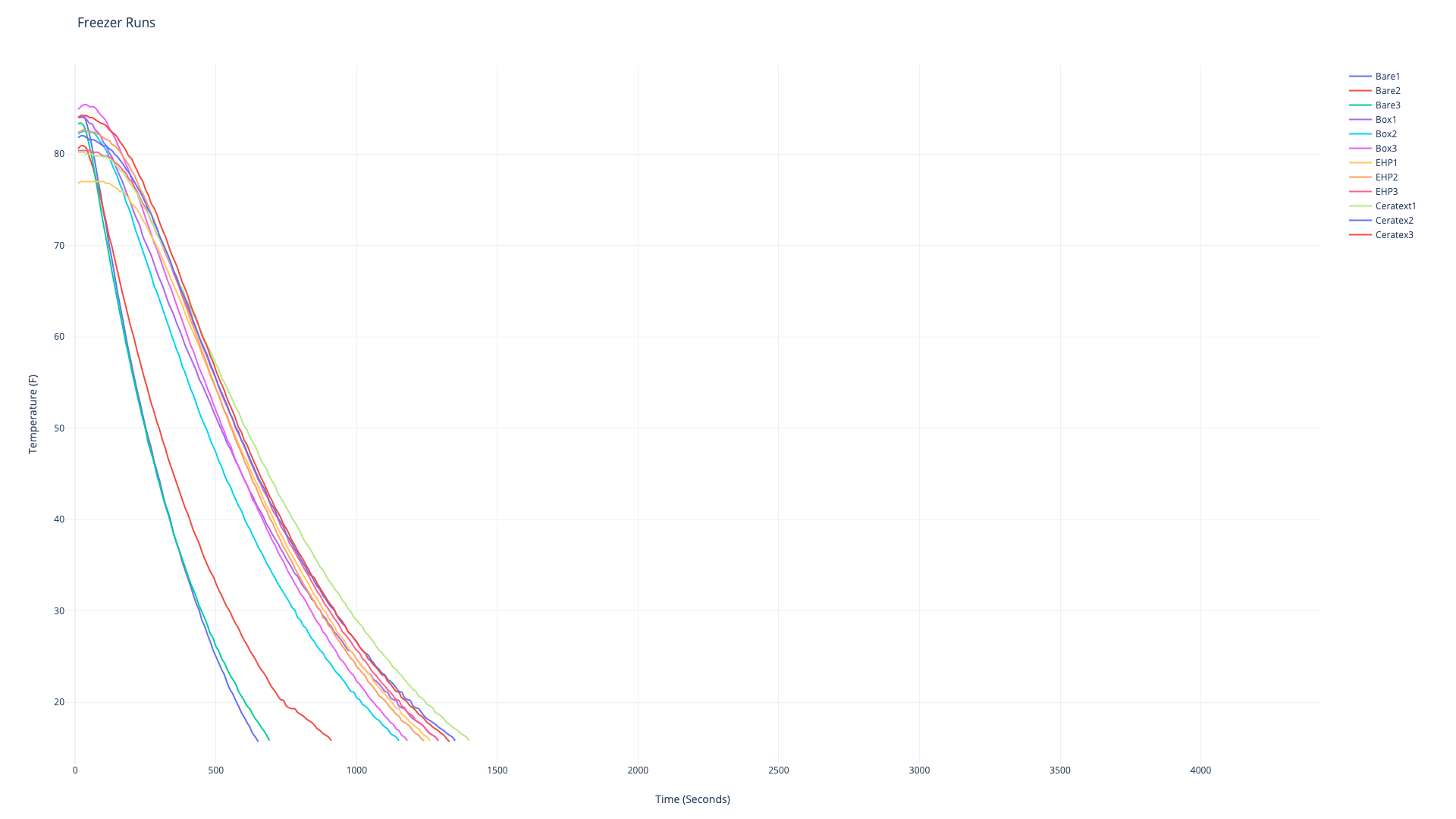 Oven Results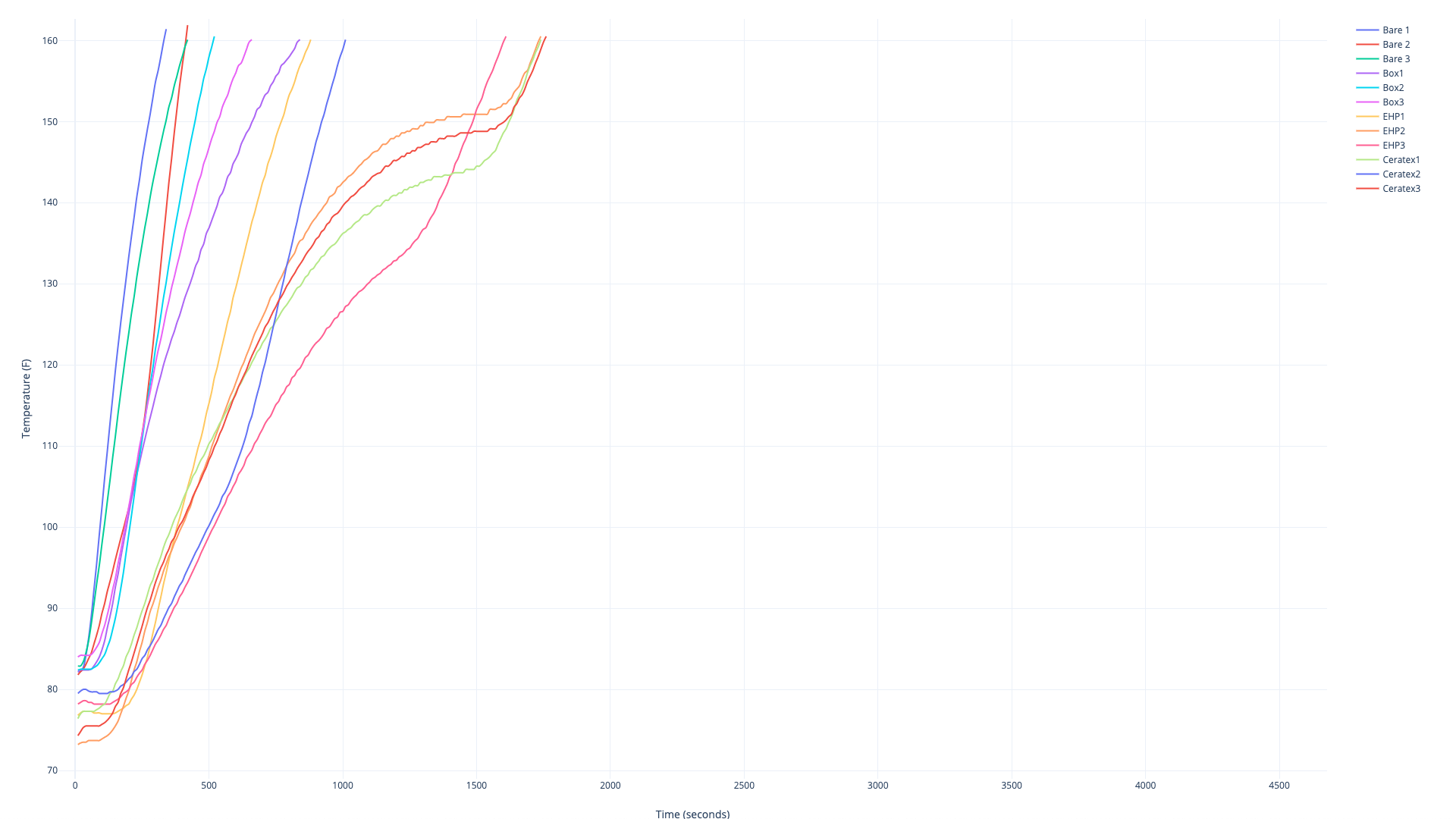 *click the picture to see a full-size version
Since we could get the Ceratex at about 50% of the cost of EHP, we eliminated EHP from consideration. The last thing to decide was if augmenting the Roxul with a layer of Ceratex provided enough insulation value to justify the cost.
Roxul Alone vs. Roxul + Ceratex
The Roxul performed really well in our testing. Adding Ceratex increased that performance by about 25% in the oven and 15% in the freezer.
Freezer Results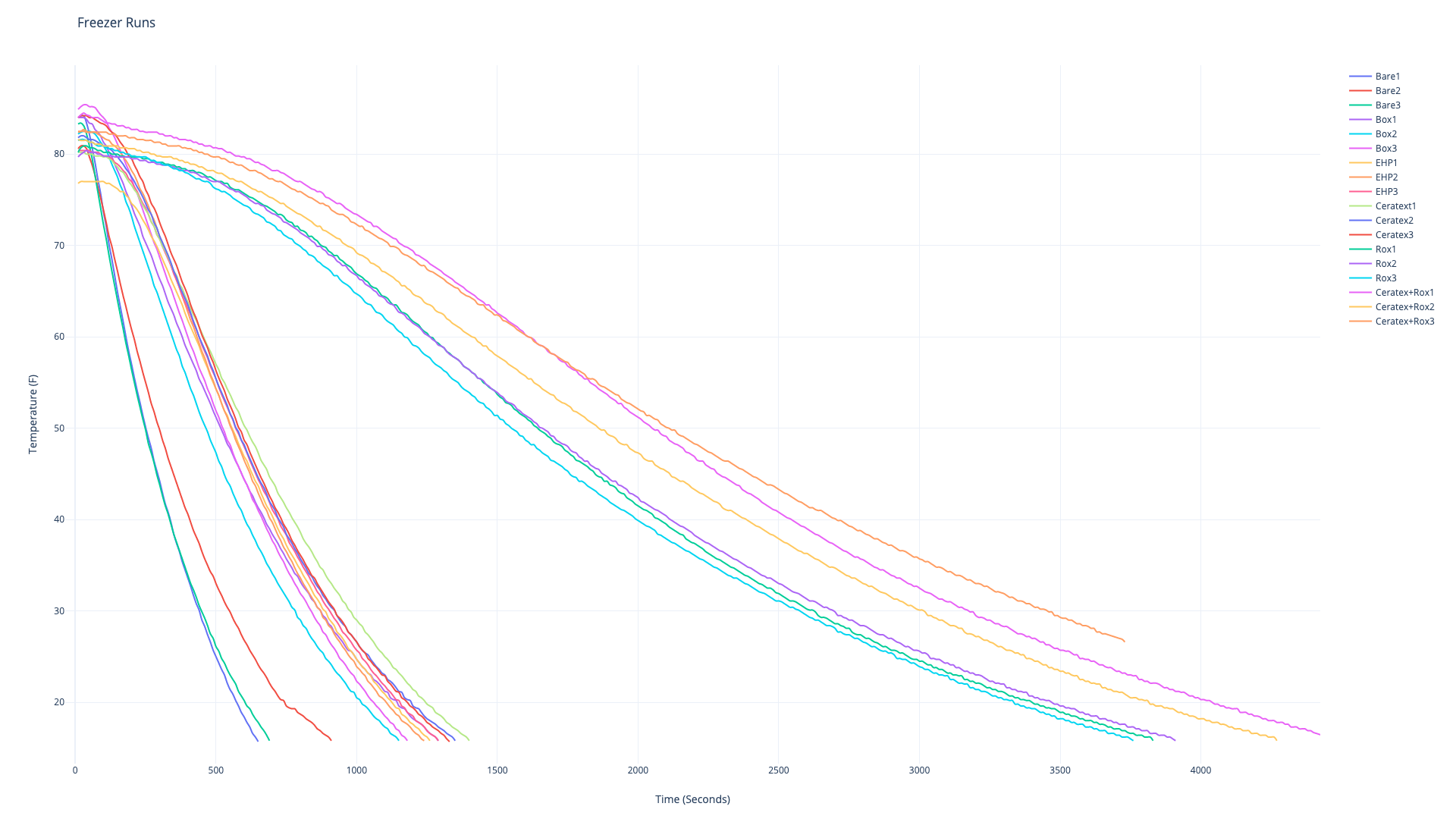 Oven Results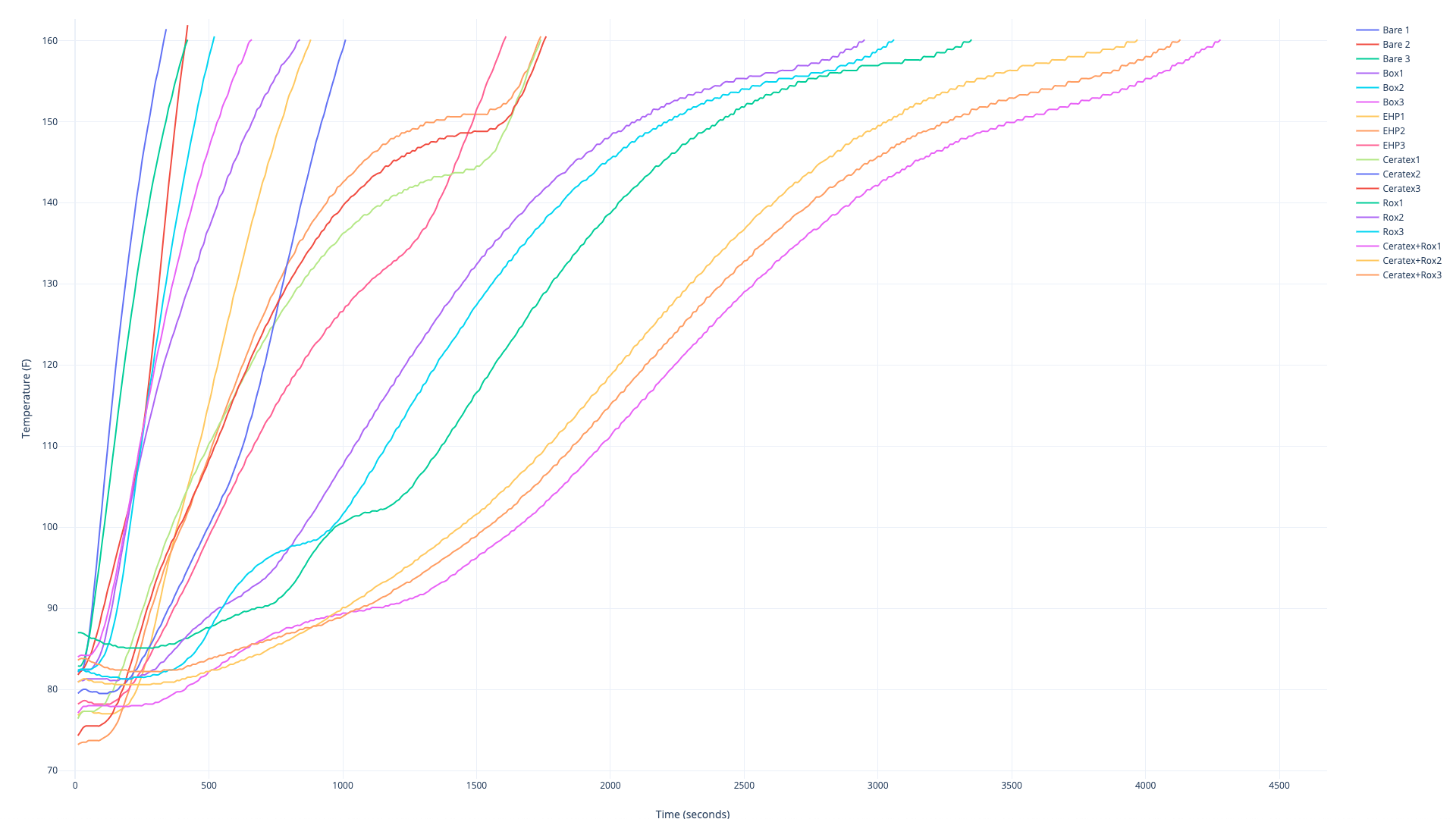 After our testing, we decided to invest in the Ceratex and next week will show you how we installed it in the bus!
Also, if you want all the nitty, gritty, nerdy, scientific details on all things insulation, we recently came across some amazing videos by Greg Virgoe. Go watch his videos - you will learn so much! Wish we had these two years ago.
Insulation Video 1
Insulation Video 2
Insulation Workshop Video at Camp Quirky
Watch the video:
Click here If you cannot see the video.
Tools we used: